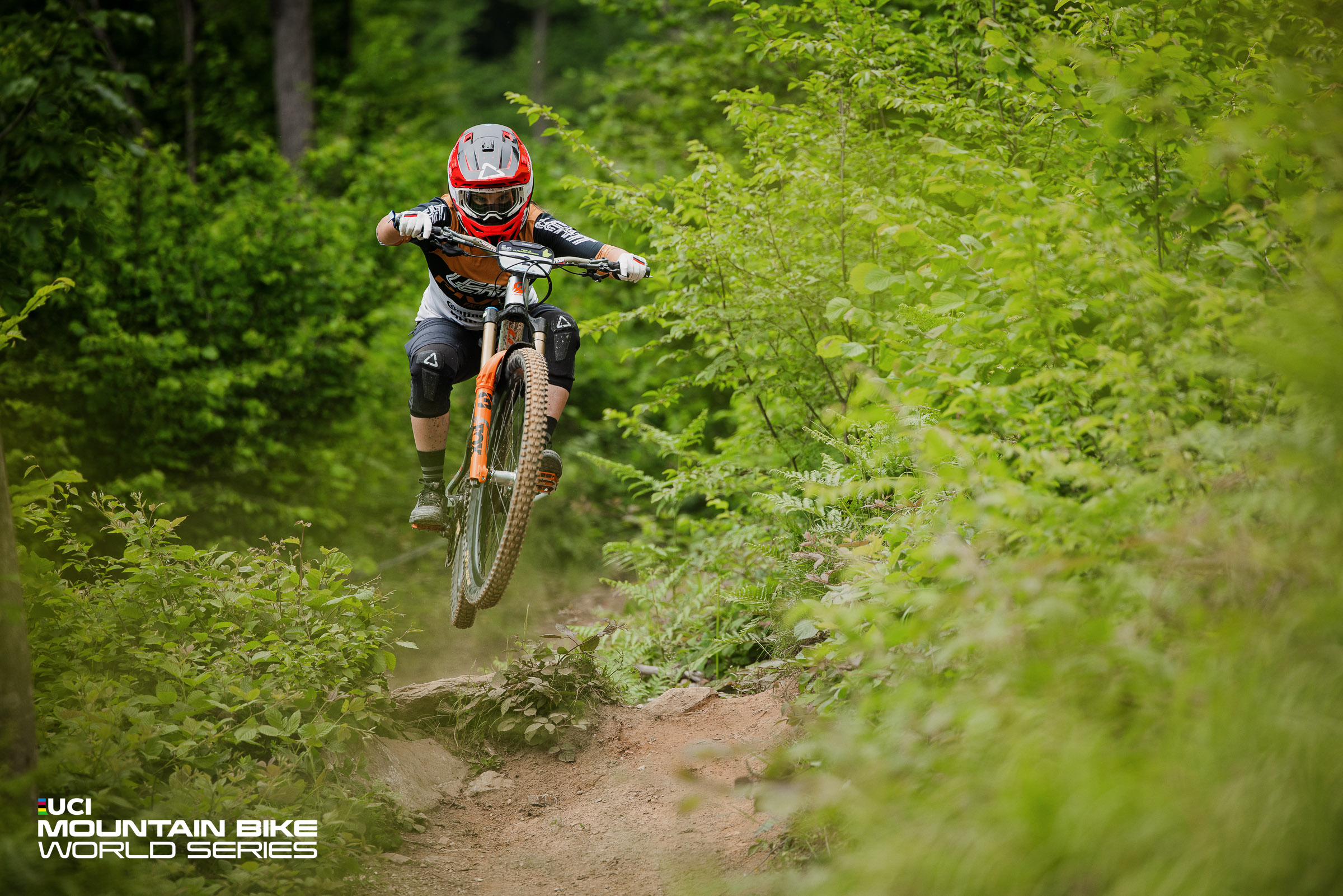 Morgane Charre (Pivot Factory Racing) and Jesse Melamed (Canyon CLLCTV Factory Enduro Team) stamped their authority on the trails of Pietra Ligure to triumph at the UCI Mountain Bike Enduro World Cup in Finale Outdoor Region.
The pair took two stage wins apiece and were simply too consistently fast for their rivals on six fast, chunky and technical tracks above the azure waters of the Ligurian Sea in Italy.
After a huge 56km day, France's Charre had a fairly comfortable win margin of nearly 14s over second-placed local hero Gloria Scarsi (Canyon CLLCTV Dainese). Last year's champion Isabeau Courdurier (Lapierre Zipp Collective) was third.
Charre came out swinging and won the first two stages of the day - both around 10-minutes riding and the longest in the race by some margin. As a result she led all day despite a strong challenge from Scarsi, who took a later stage and was buoyed by a vocal and partisan local crowd to her best-ever result on the world stage.
In the men's race - the third round of the 2023 season - it took Canadian Melamed a stage to get going but then he found his pace, took a stage win and held the lead for the rest of what was a massive day in the saddle with more than 2,000m of climbing and 3,100m of descending. Melamed's biggest threat came from his countryman Rhys Verner (Forbidden Synthesis Team) who took the first stage of the day along with the fifth. That meant, at the close of play, he was only five seconds back after nearly 30 minutes against the clock. Frenchman Alex Rudeau (Commencal Enduro Project) won a stage and had two seconds places to finish less than a second behind Verner in third.


In the U21 race, it was a dominating win for Canadian Emmy Lan of the Forbidden Synthesis Team, France's Lily Planquart was second and Lan's compatriot Elly Hoskin was third.
The U21 men was a win for Specialized Enduro Team's Raphael Giambi, Scotland's William Brodie was second and Giambi's fellow Frenchman Alexis Icardo (Canyon CLLCTV Dainese) ended up third.
Team of the day were Canyon CLLCTV Factory Enduro Team but after three EDR rounds in 2023, Yeti/Fox Factory Racing lead the team standings.
The e-enduro riders were also in action earlier in the day, as Finale Outdoor Region played host to the first round of the 2023 UCI Mountain Bike E-EDR World Cup.
The nine-stage race ended up with wins for a resurgent Laura Charles (Miranda Factory Team) and for mountain-bike legend, former UCI World Cup Downhill champion Fabien Barel. Charles hardly missed a beat all day and Barel was excellent on the gravity stages but also competitive on the two power stages, which gave him the edge.
In the women's race, Flo Espineira Herreros (Orbea Fox Enduro Team) was second and another mountain bike legend and former UCI Downhill World Champ, Britain's Tracy Moseley was third.
In the men's it was an all-French podium with Lapierre Zipp Collective's Antoine Rogge in second and Florian Nicolai (WeRide Fulgur Factory Team) in third.
Full EDR and E-EDR results are here
The action continues in Finale Outdoor Region tomorrow when the second round of the UCI Marathon World Cup gets underway.
The top EDR and EDR-E riders will be back in action in two weeks time in the Austrian Alpine resort of Leogang from June 15 to 18.