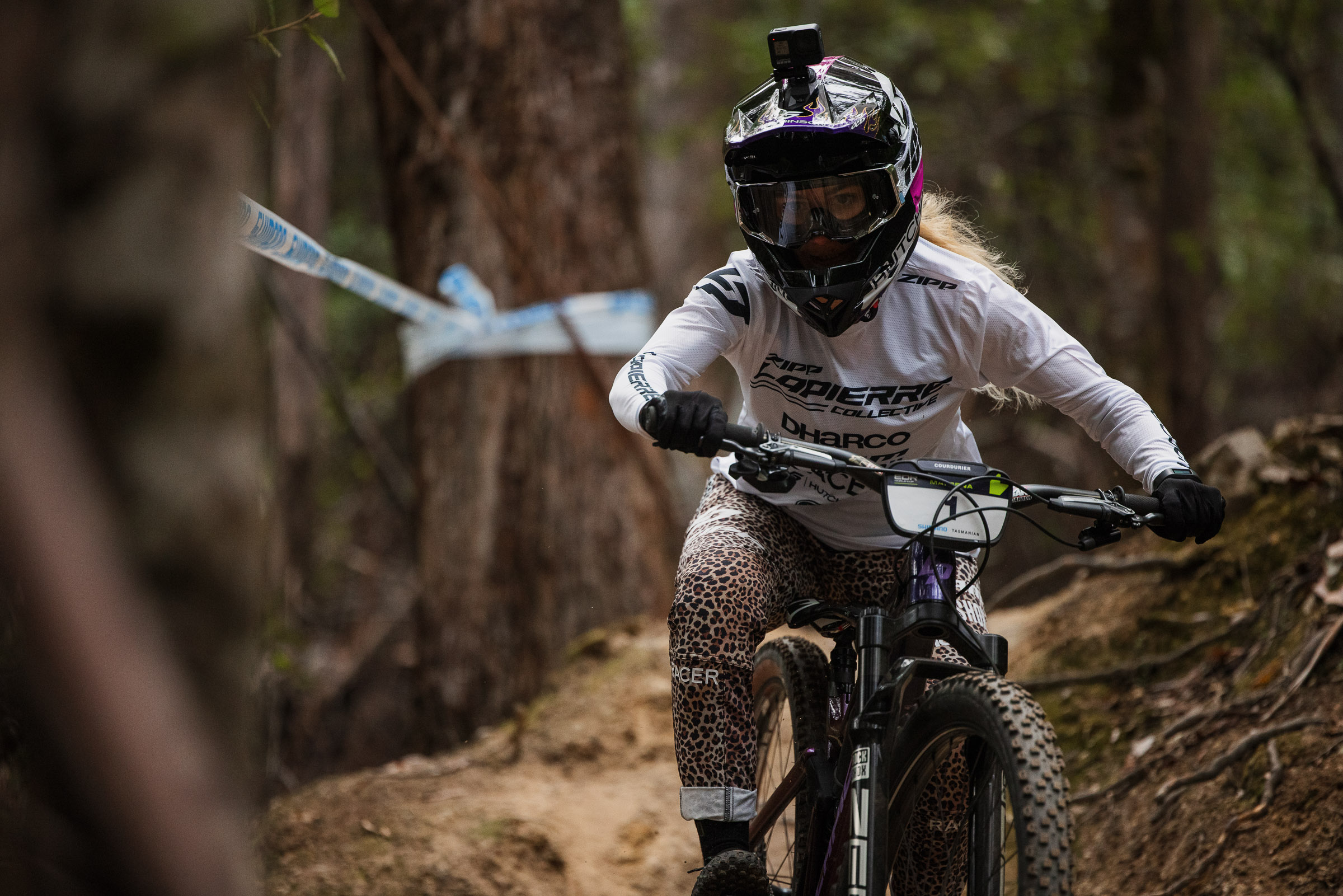 Isabeau Courdurier (Lapierre Zipp Collective) and Giant Factory Off-Road Team's Luke Meier-Smith have taken first blood in the inaugural UCI Mountain Bike Enduro World Cup.

France's Courdurier showed the consistency and form that has already landed her two championship titles on the steep, testing trails of Maydena as the 2023 season launched in the Australian state of Tasmania.
And Meier-Smith bounced into the all-new UCI Mountain Bike World Series with a win in his first senior race, fighting off strong challenges from a hugely-competitive field that featured the best enduro riders in the world but also stars of downhill dipping their toes into the format.

In a historic turning point for enduro racing, after 10 years of the Enduro World Series, the sport has taken the step up to full World Cup status and become one of six disciplines to be integrated into the brand-new UCI Mountain Bike World Series.
The tough six-stage race that opened proceedings took place among Tasmania's stunning eucalyptus trees high above the Derwent Valley and saw riders cover some 54km, climb more than 1,200m and descend nearly 3,000m.

Courdurier started the day with a win but she was pushed hard by reigning UCI Downhill World Champion Valentina Höll who would go on to win the next two stages with a text book technical display. Höll though would crash on stage five and lose her momentum, while Courdurier turned the screw taking two more stages.

French rider Morgane Charre (Pivot Factory Racing) would end up pushing the 2022 champ hardest with her downhill skills suiting the steep chutes and jumps that characterise the loose Maydena terrain. And a return to her fantastic early-2022 form would leave a resurgent Ella Conolly (Cannondale Enduro Team) in third.
In the men's race, it was a Tasmanian local - Nukeproof SRAM Factory Racing's Dan Booker who won the first stage but a dominant Meier-Smith - who is reigning Australian downhill champ - was second and would go on to win three stages and never be outside the top four.

Booker, though, would also be consistent and never be further back than third on any stage, finishing the day with a second place overall and just five seconds off Meier-Smith's blistering pace.

Another Australian downhill star, Connor Fearon of the Forbidden Synthesis team, would make it a home-nation podium after a day when he just kept getting faster - finishing with two third places on stages five and six.

Reigning champ Jesse Melamed (Canyon CLLCTV Factory Team) would have a day of mixed fortunes appearing to be on the pace but suffering a burped tyre on stage three and then fading towards the end of the race after hitting a tree - eventually finishing in 19th.
The U21 women's category saw a win for Canada's Emmy Lan (Forbidden Synthesis Team) who chose the final stage to leapfrog Erice Van Leuven (Commencal Les Orres) after the Kiwi rider had led all day. Canadian Elly Hoskin finished third.

The U21 men saw a win for Tasmanian local Sascha Kim who took three stage wins. Giant Factory Off-Road Team's Remy Meier-Smith was second after also taking three stage wins and Will Hynes in third made it another all-Australian podium.

Team of the day were Forbidden Synthesis with Giant Factory Off-Road second and Yeti/Fox Factory Race Team in third. Full team results here
The UCI Mountain Bike Enduro World Cup stays in Tasmania for round two, when it returns to the inimitable trails of Derby next weekend, (March 31 - April 1).