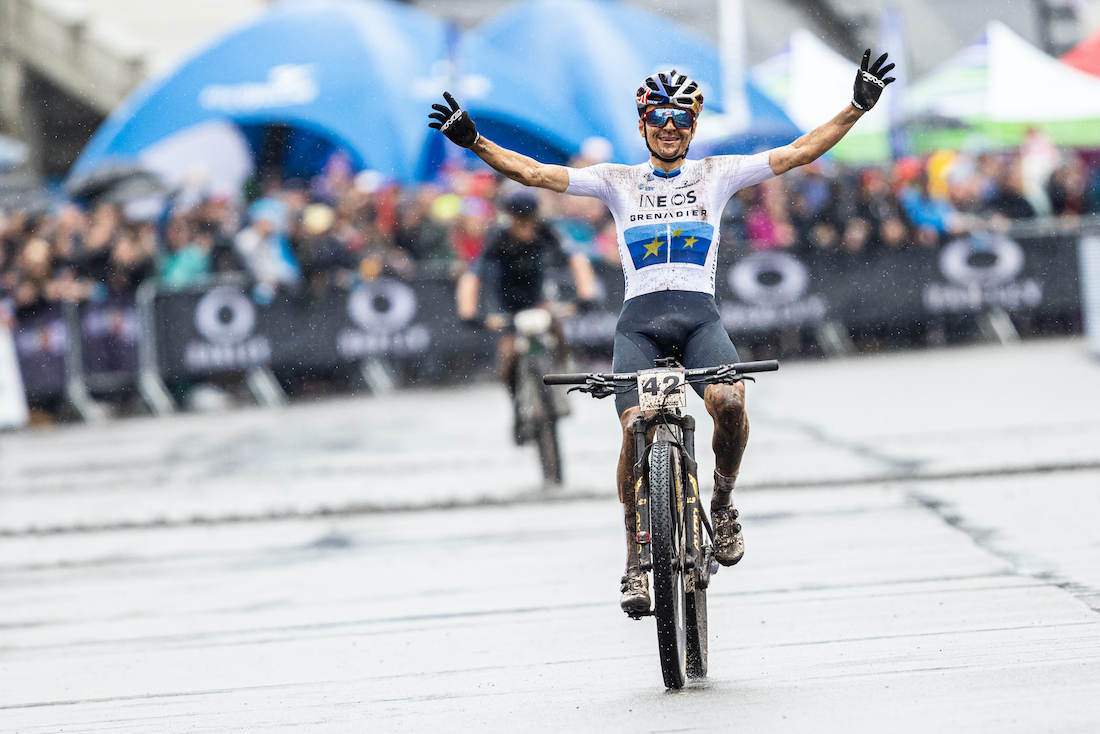 News
Pidcock and Pieterse clinch breathtaking UCI Cross-country World Cup wins in Nové Město
Tom Pidcock and Puck Pieterse battled hard to take the top spots in the UCI Cross-country World Cup season opener in Nové Město na Moravě
The pair stamped their authority on the technical Czech course mastering the damp rocks and roots that pepper the demanding track.
In the women's elite race, it was Britain's Evie Richards (Trek Factory Racing XC) who took the early lead until a flat tyre on lap four saw the competition blown wide open.

But a final lap attack from Dutch rider Puck Pieterse (Alpecin-Deceuninck) was enough to give her the win at her first-ever Elite UCI Mountain Bike Cross-country Olympic World Cup.

World Champion, France's Pauline Ferrand-Prévot (Ineos Grenadiers) had to settle for silver, with European Champion, France's Loana Lecomte (Canyon CLLCTV) completing the podium.
After the race, Puck Pieterse said: "I don't know what happened.. Normally my start is really good, but everyone was going so fast I thought I'd blown up. It looked like the others did too though.
'Pauline and I kept swapping places, then after a few laps Evie had a flat or something. All of a sudden, I was racing at the front and I didn't know what to do so I just tried to keep calm and it worked out."

Second-place Pauline Ferrand-Prévot said: "I just wanted to give my best today. I trained really hard this winter. My goal is for later in the year but I knew I was strong so I just wanted to start the season well.

"I did a long off-season of training, so I knew I had good endurance, but I didn't know about my explosivity. I tried to build into a good position in the race.

"When I saw Evie had her mechanical, I knew it was time to go full gas and not wait. On the last lap I had a mechanical so Puck came back and I tried to finish as strong as I could."

Podium XCO Women:
1. Puck Pieterse (NED | Alpecin-Deceuninck) 1:23:01
2. Pauline Ferrand-Prévot (FRA | Ineos Grenadiers) 1:23:06
3. Loana Lecomte (FRA | Canyon CLLCTV) 1:23:12
4. Evie Richards (GBR | Trek Factory Racing XC) 1:23:17
5. Alessandra Keller (SUI | Thömus Maxon) 1:23:39
Great Britain's Tom Pidcock (Ineos Grenadiers) said earlier in the week that he had never lost a race in Nové Město na Moravě and he still hasn't after adding the Cross-country Olympic win to his Short-Track victory on Friday.

Joshua Dubau (Rockrider Ford Racing Team) led out the race after Pidcock crashed in front of him and lost time but the 23-year-old Yorkshireman attacked on the final lap to emerge victorious in Nové Město.
Swiss rider and reigning World Champion Nino Schurter (Scott SRAM MTB Racing Team) took third.

Speaking after the race, Pidcock said: "Today was a hard race honestly. The conditions were super tricky, we hadn't ridden that at all in the rain... We had the short track but there's no roots in that race. I think my tyres were a bit hard so I was a struggling a bit on the roots. It's nice to win in the end."
"When a crash like that happens, I think it's important to take a minute, don't panic and reset. I had a dead leg, so I just came to the pits, got a bottle, had a drink, got a gel and then focused on trying to get back to the front. I didn't do any whips all race so I had to do some at the finish."

Second place Joshua Dubau said: "I was so close to the win so it's a bit of a bummer. After all it is a race, you need a first and a second. Tom was strong in the final. It didn't come down to much.
"I'm really happy. My best place in the World Cup so far was 10th. I can only be satisfied with a second place. I knew I was well prepared. My form was good and improving since the beginning of the season. I came with the goal of at least beating my best World Cup finish."
Podium XCO Men:
1. Tom Pidcock (GBR | Ineos Grenadiers) 1:22:46
2. Joshua Dubau (FRA | Rockrider Ford Racing Team) 1:22:51
3. Nino Schurter (SUI | Scott Sram MTB Racing Team) 1:23:09
4. Jordan Sarrou (FRA | Team BMC) 1:23:09
5. Thomas Griot (FRA | Canyon CLLCTV) 1:24:07
The full results from today's men's race can be found here
The full results from today's women's race can be found here
The UCI Mountain Bike World Series will continue in the Finale Outdoor Region in Italy with the disciplines enduro and Cross-country marathon.