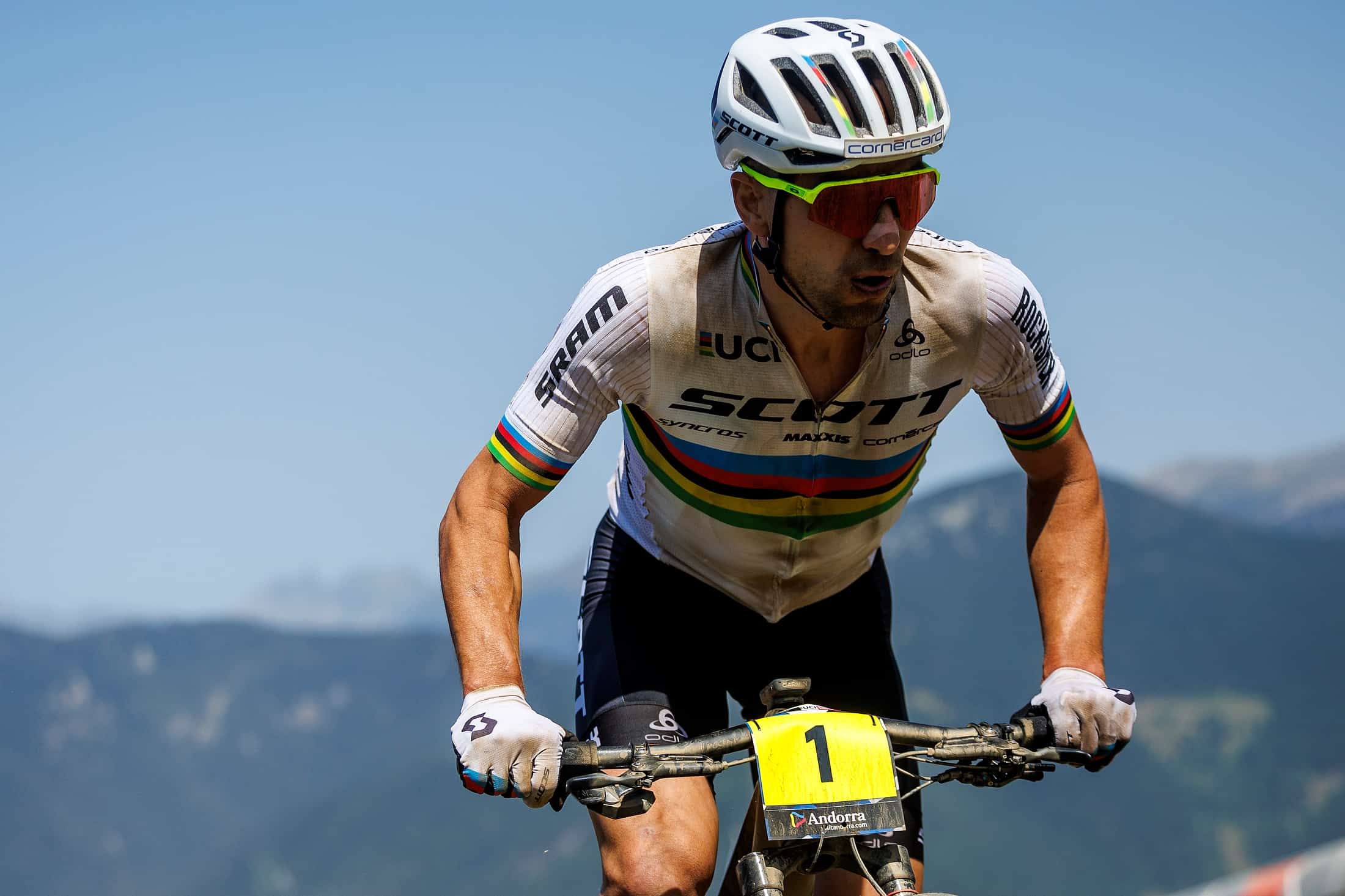 Cross-country Olympic (XCO) mountain bike racing has roots as deep as the early days of knobbly tyres clawing into the California hills back in the 1970s, it was first recognised by the UCI as a format in 1988 predating Downhill by five years.
Amidst the extreme sports boom of the mid to late 1990s, Cross-country largely got lost in the wake of the high speeds and baggy pants of its gravity-fed stablemate but the past decade has seen its popularity surge with fans across the world.
It remains the only mountain bike format to feature at the Olympic Games and as such it boasts some serious clout on the international stage. Its status as a fan favourite also derives from its deeply-stacked talent pools and unpredictability with some of the sport's biggest stars banging bars with emerging talents and multi-discipline powerhouses alike. Here's all that you need to know:
The format
Cross-country is a mass start race with over 100 racers taking to the same startline at the same time. The courses are designed to test their physical fitness and bike handling skills in equal measure consisting of both steep uphill and downhill sections across a four to 10km lap. Although each course may consist of very different terrain and a varying number of laps, there are some rules which help to keep them reasonably consistent (no more than 15% of the total lap can be on Tarmac etc).
Whoever crosses the line first, wins - it's that simple.
Well, it's not quite that simple… winning a UCI Cross-country World Cup race is one of the toughest propositions in modern cycling. Not only do you have to conquer repeated cliff-like ascents and torturously technical descents but you have to do it all with your heart rate approaching the redline surrounded by other like-minded racers determined to get to the finish before you.
Cross-country races are often like mini road classics - a boxing match at the front of a group to determine who has the legs to go to the last lap in with a sniff of the win. Attrition melds with bike skills and psychological warfare to produce fireworks!
The bikes
As speeds and technicality have increased over the years, race bikes have had to evolve to look more like mini enduro sleds than the weight conscious bikes of old. Full suspension bikes of 100-120mm of travel rule the roost, geometry is much more aggressive to allow for maximum attack on descents and dropper seat posts are now de rigueur when once they were viewed with scepticism. Many racers run handlebar-mounted levers which allow them to toggle between suspension damping modes as many as 40 times per lap.
Everything is, of course, relative and the bikes remain extremely light in weight with as many parts being hewn from carbon fibre as possible. Cross-country race bikes run extremely lightly shod tyres for minimum rolling resistance - punctures can be a big factor but are not the race enders that they can be in virtually every other mountain bike format. There is a feed/tech zone on each lap where a racer can take on fuel, water and technical support every lap.
The tactics
Just as in Cross-country Short Track (XCC), often the safest place to be is right at the sharp end and clear of any congestion-based carnage. This is particularly true on the opening laps as the herd attempts to establish some kind of natural rhythm. Unlike in XCC, courses can bottleneck suddenly and offer up much more in terms of technical challenges meaning that it's important to assert yourself right from the start.
Reading the opposition around you (again, whilst your heart rate soars) is essential too with the experienced hands knowing that races are only won on the last lap and seldom before. Teammates can and often do help themselves out but XCO remains at its core a discipline for individuals.
Switzerland is the powerhouse nation in terms of XCO racing so a good tactical rule of thumb if you want to do well is to finish ahead of all the Swiss racers. Easy!
The riders to watch
The popularity of XCO in the last 10 years really began with the growth of the talent pool in the elite women's field. For years the elite men's landscape was dominated by the twin towers of Julien Absalon and Nino Schurter but the women's field began to percolate with a raft of young talents intent on taking on the established old guard and breaking new ground.
The headline acts were undoubtedly the 2022 UCI World Champion, Pauline Ferrand-Prevot and the reigning Olympic Champion, Jolanda Neff. The former is perhaps the most-talented multi-disciplinary cyclist the world has yet seen whilst the latter rewrote the rules on how important bike handling should be in XCO racing. When both are fully fit, there are few who can touch them. Aside from Alessandra Keller. And Kate Courtney. And Jenny Rissveds. And Linda Indergrand.
And…
In the elite men's field, Nino Schurter still roams the plains as the biggest beast of all. With ten UCI World Championships and eight UCI World Cup overall titles to his name alongside a full suite of Olympic medals in his jersey pocket he is a household name in his native Switzerland. To win a UCI MTB World Series XCO race, you are going to have to come up with an answer to a Nino-shaped problem…
But, believe it or not, he is beatable! The days of Schurter's vice-like grip over the series are on the wane and the likes of France's Titouan Carod and Italy's Luca Braidot continue to emerge as would-be overall title winners. As ever, the Swiss talent pool continues to poureth over… Fillipo Colombo, Thomas Litcher and Vital Albin are champing at the bit for their turn in the spotlight.
Where can I watch it?!
With the firepower of one of the world's biggest sports broadcasters behind the UCI Mountain Bike World Series, there will be more live coverage and more ways to follow racing than ever before. UCI World Cup Cross-country Olympic, Cross-country Short Track and Downhill events from the UCI Mountain Bike World Series will be available live and on-demand on discovery+, the Eurosport App and globally on GCN+. UCI World Cup Cross-country Marathon, Enduro and E-Enduro will benefit from in-depth Highlights Shows at every round. More ways to watch will be announced in the coming months.