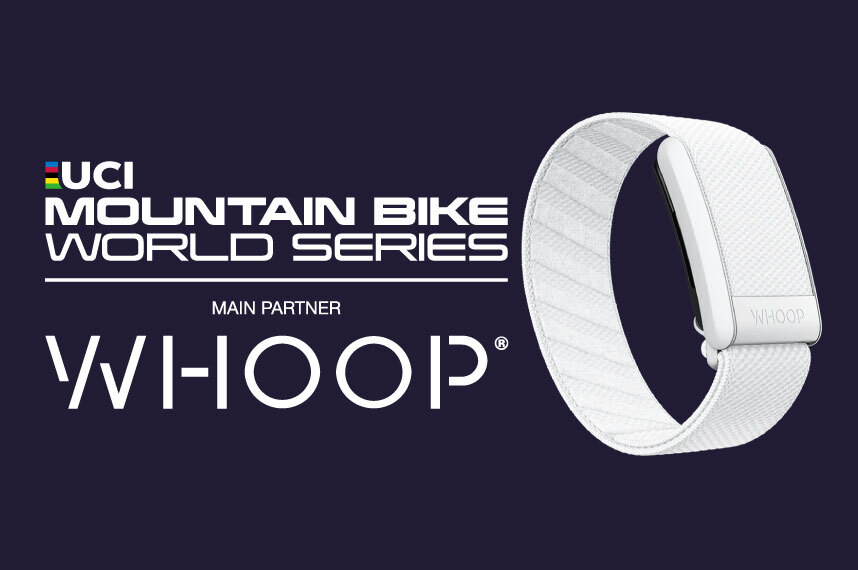 News
WHOOP partners with the UCI Mountain Bike World Series to offer cutting edge biometric insights to live coverage
The UCI Mountain Bike World Series is delighted to welcome WHOOP as a major new partner for the upcoming race season.
WHOOP is a wearable health and fitness coach that provides personalised insights via a wrist band and companion app - and it's about to revolutionise the way fans experience the UCI Mountain Bike World Cup. Live biometric data from athletes wearing the devices will be shared during racing, as well as helping to inform the pre and post-show analysis and commentary teams.
It's the first time this data has been used in the UCI Mountain Bike World Cup coverage and will bring an entirely new dimension to the broadcasts of downhill and cross-country, thanks to the insights into athletic performance offered by WHOOP.
WHOOP is the most advanced health and fitness wearable tech available, offering high resolution of detail on training, sleep and strain, giving a complete picture of an athlete's performance.
The ground-breaking partnership comes at an exciting time for mountain biking as it enters a new era with Warner Bros. Discovery Sports securing the broadcasting, promotional and organisational rights for the UCI Mountain Bike World Cups, which will be shown on discovery+, GCN+ and Eurosport.
And whilst the technology may be new to mountain biking, WHOOP already has an award-winning relationship with WBD Sports thanks to its pioneering work with Eurosport in the 2022 Giro d'Italia Grand Tour. The partnership gave viewers a unique insight into the heart rate and strain of riders in real time as they took on the final gruelling climb of the race, as well as more detailed metrics in the post show analysis.
Riders who'll be wearing the WHOOP band during racing and sharing their data include members of the Alpecin Deceuninck Team such as UCI Cross-country U23 European Champion Puck Pieterse and reigning UCI Cross-country Short Track Champion Sam Gaze.
Scott Young, SVP Content and Production at Warner Bros. Discovery Sports, said:
Our mission to propel the UCI Mountain Bike World Series into a new era is underpinned by our desire to take fans to places they couldn't ordinarily reach and to deepen their connections with the sport they love and its athletes.

To do this, we're looking forward to integrating cutting-edge innovations into our broadcast coverage including partnering with WHOOP for game-changing insights into rider performance. Not only will this help explain to spectators and our audience how an athlete is able to overcome their rival, but it will elevate the endurance and skill to a whole new level by enabling the most advanced real time race analysis ever witnessed.
WHOOP is excited to be building on our partnership with Warner Bros. Discovery.
John Sullivan, SVP of Marketing at WHOOP.
This summer we're bringing WHOOP Live to the international coverage of the UCI Mountain Bike World Series, supporting the sport, and providing viewers and fans with a unique viewing experience; with insights into the feat of human performance involved in mountain biking. It's our goal, together with WBD, to help elevate the broadcast, athletes and commentators to this new era of the Mountain Bike World Series.

Our team is looking forward to being on site, to meet this community at several events this summer, and allow more people to unlock their own human performance with WHOOP.
And it's not just fans at home who'll benefit from the WHOOP experience, as the brand will be on site at select rounds of the UCI Mountain Bike World Cups this season, offering live demos and the opportunity to purchase the WHOOP 4.0 and bands.
The next race in the UCI Mountain Bike World Series takes place this week in Nové Město na Moravě in the Czech Republic with the first round of the UCI Cross-Country World Cup (May 11-14).