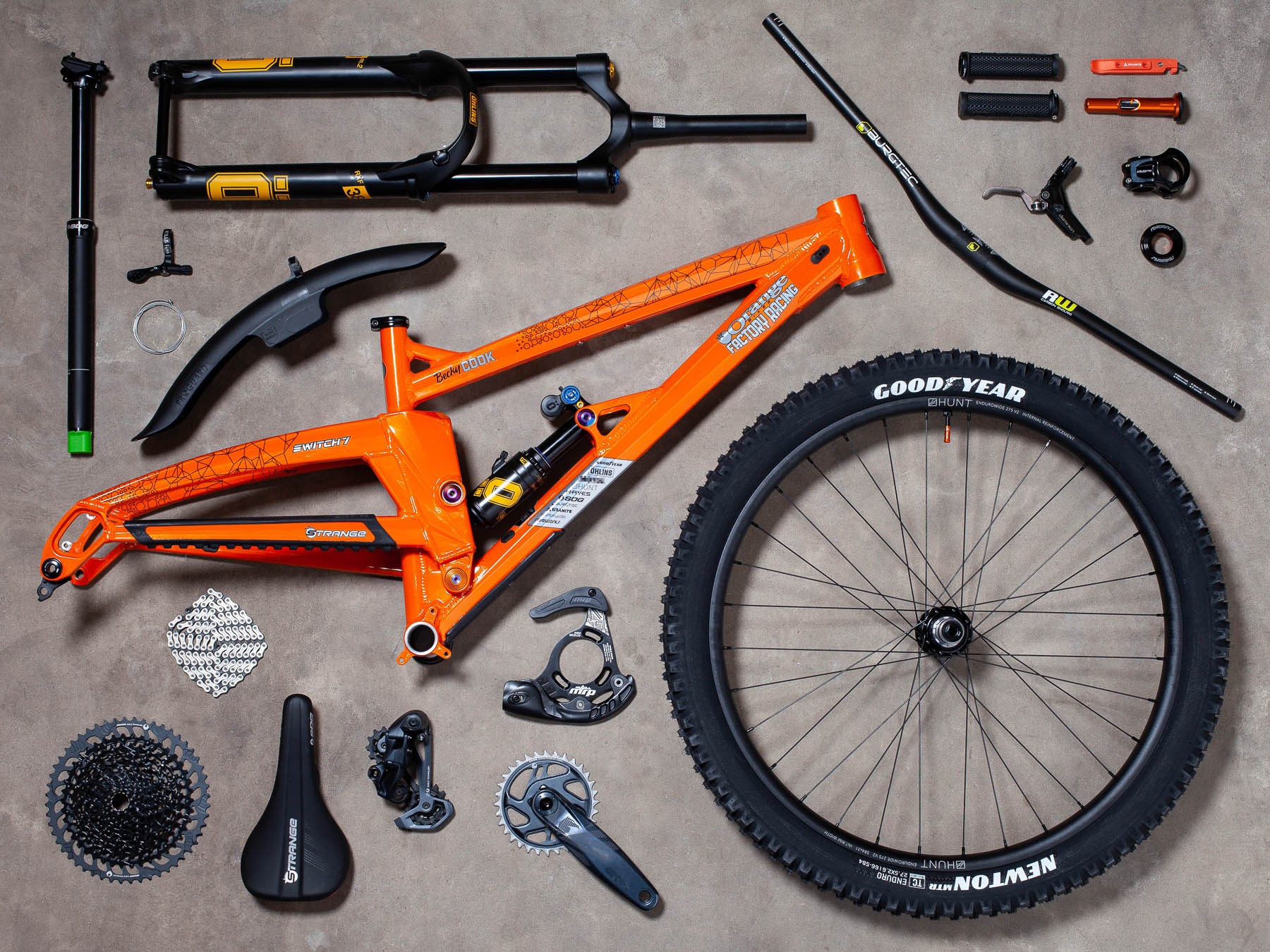 Orange Bikes is excited to announce the return of the Orange Factory Racing team for 2023 complete with two new riders, the brand's first-ever female factory racer, an all-star sponsor list and a packed calendar of events.
Founded in 1988 out of a love for MTB racing, Orange Bikes is a brand built on speed and competition with many of the greatest-of-all-time racers building their reputations on a Halifax-made mountain bike.
Now in its third year, the Orange Factory Racing team is Orange's way of lighting that fire once again by supporting talented riders, jumping into the limelight on the international race scene and ensuring competition and speed are at the heart of bike development.
After two incredible years, Orange Factory Racing will mix up the roster, with Tom Wilson returning for a third year and newcomers Christo Gallagher and Becky Cook joining the program.
The team will race the full Enduro World Cup (formerly the EWS), various European one-off events and a selection of domestic UK events such as the British National Enduro Series and the ArdRock Enduro.
Tom Wilson
2023 will be Tom Wilson's seventh year on Orange Bikes, and his third on Orange Factory Racing.Young, hungry and talented Tom has been with the team since day one, working his way through the junior ranks and up the results sheet EWS field.
'23 will see him race a mix of UCI Enduro World Cup and E-Enduro World Cup events, splitting his time between his team issue Orange Switch 7 long travel enduro bike and Phase MX eMTB.
Becky Cook
Becky Cook joins Orange as the brand's first female factory racer, though certainly not the first female athlete the brand has supported.Based on the Isle of White, Becky had a storming '22 season with a heap of domestic gold medals, top 15's in all but one EWS and an incredible 5th place at the Sugarloaf round in Maine, USA.
She'll be focusing squarely on achieving her best season to date at the new UCI Enduro World Cup,with her sights set on the podium.
Follow Becky on Instagram here.
Christo Gallagher
A fresh face to Orange but no stranger to racing, Christo joins us with a whole heap of EWS and
domestic racing experience. Fast, super stylish and Scottish his highlights include bagging the overall elite title at the '21 British National Enduro Series as well as 2nd place at Ardrock in the same year, 14th at the '22 Innerleithen EWS round and 3rd overall in elite at the super competitive Scottish National Enduro Series.
He's also a demon around the pump track - look out for his insta edits from those!
Follow Christo on Instagram here.
The Other Star Of The Show
Of course, the other star of our show will return for '23, the Orange Switch 7.
Tested, developed, refined and proven by Orange Factory Racing, the Switch 7 will be Tom, Christo and Becky's go-to for race day's around the world, guaranteeing World Class performance and Orange's trademark ride feel and reliability.
Launched in 2022, the Switch 7 takes Orange's proven made-in-Halifax frame design and adds the new STRANGE power link to create even more progressivity, perfect for the brutal and technical stages of the EDR.
An All-Star Sponsor List
The team will be supported by a dream line-up of sponsor brands, all working together to guarantee Tom, Christo and Becky can perform at their very best. The riders will be kitted head to toe in Leatt clothing and protection, keeping them safe and stylish in all conditions.
They'll ride Goodyear tyres, Ohlins suspension, Hunt wheels, Hayes brakes, SDG Components saddles and seat posts, Burgtec controls, Granite Design tools, Rapid Racer Products mudguards, RideWorks headsets and bottom brackets and STRANGE components finishing kits.
The team will also be supported by Better Bolts, CrankBrothers and MRP.
Another sponsor will also join the team as the season hots up, but for now, the team is keeping that one under wraps. Watch this space.
See You At The Races
Orange Factory Racing's season will begin with Team Camp in South Wales in February and then most quickly on to the first-ever UCI Enduro World Cup in Tasmania, Australia.
You can follow the athletes on Orange's own Instagram account or on the athlete's individual accounts(Tom, Becky, Christo).
See them in person at the Enduro World Cup, British National Enduro Series or at the ArdRockEnduro.
You can learn more about Orange Factory Racing here.