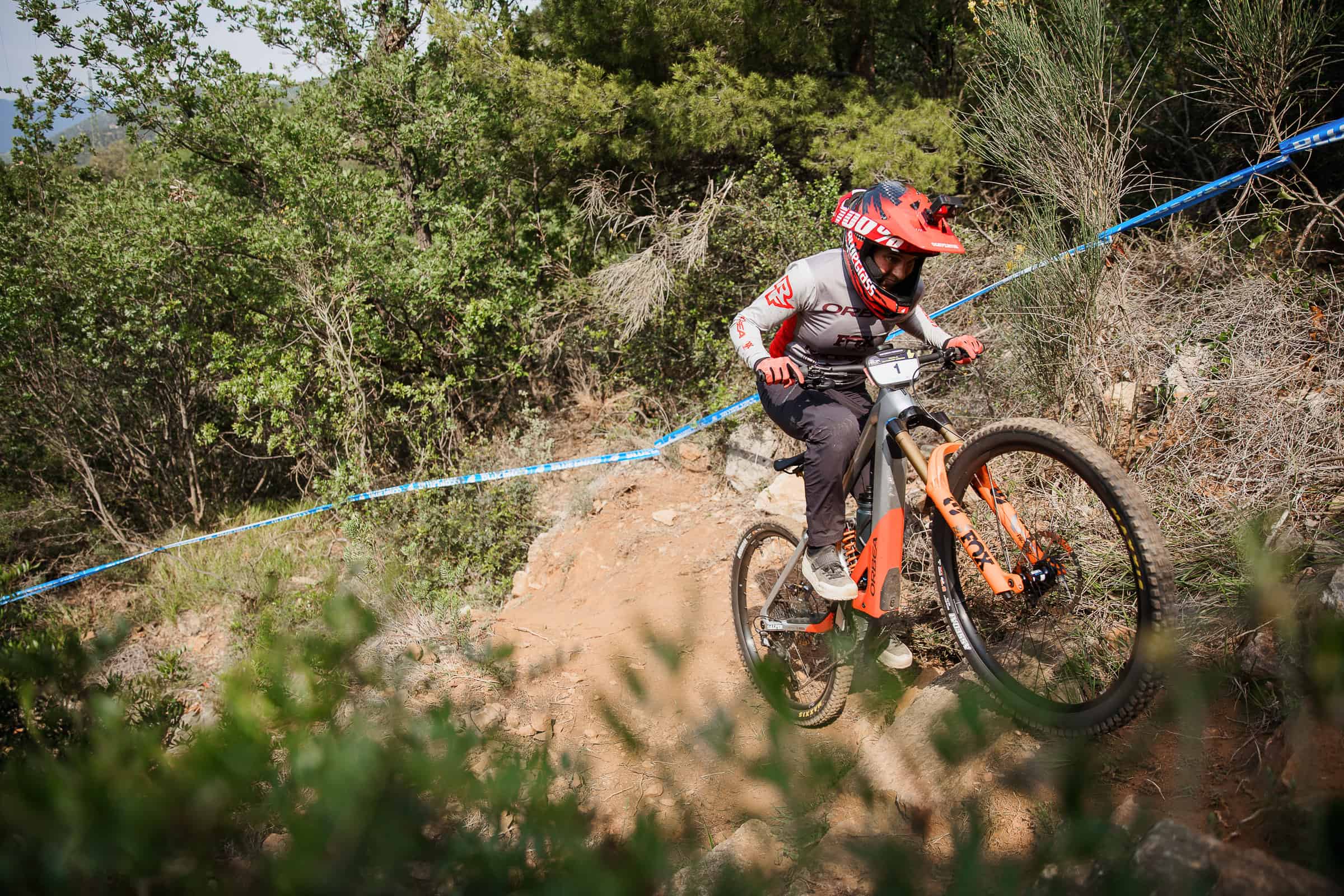 There is no doubt that when it comes to mountain bike racing, E-Enduro is the format on the move. The youngest of the race formats is riding the back of the boom in the popularity of E-MTB's and is the proving ground for the world's biggest bike and component manufacturers as the arms race continues to heat up with almost daily tech advances coming on a daily basis.
The race around the stages of the stunning Pietra Ligure in the Finale Outdoor Region is set to be one of the sport's milestones as it will see it ascend to full UCI World Cup status - not bad for a format which began life as recently as 2020!
What is an E-EDR course like?
E-Enduro, as you may have guessed, strongly resembles Enduro (EDR) in terms of how the racing goes down. The course itself is (in the case of Finale Outdoor Region) 58km in length and sees a number of timed stages each of which each rider has a start time on.
There are two battery changes scheduled in and those start times are devilishly tight - riders have no option but to attack the adjoining liaisons at full speed in order to make them. That's what makes E-EDR such a challenge; yes you have battery assistance, but you need every watt of it to even get you into the running on the time sheets.
What is a power stage?
There is a key difference for E-EDR over regular EDR however; power stages. These are a unique concept when it comes to mountain bike racing and are timed technical climbs. Typically short in duration they test a riders ability to blend riding skill with their bikes drive unit output. It's a fundamental part of what makes E-MTB's so entertaining to ride and come race day a chance to make or break overall times.
Who are the riders to watch?
Just as the bike tech improves almost constantly, picking a winning rider can prove tricky in E-EDR. In the elite women's field France's Melanie Pugin (WeRide Fulgur Factory Team) won the first ever round back in 2020 but in more recent headlines it was Flo Espiñeira (Orbea Fox Enduro Team) who took the 2022 title and who now stands as perhaps the most accomplished all-rounder in the field.
In the elite men's class the French have really made their presence felt and have won just about every round in the previous two seasons. Yannick Pontal (BlackBox Test Pilot Program) is the reigning overall title holder and has proven himself to be hard to beat in just about every set of terrain.
Pontal is on a new bike in the form of a Transition Relay for this season however, which will be pivotal. Orbea Fox Enduro Team's Edgar Carballo has found a home in E-MTB racing and will be looking to challenge Pontal's dominance this season. Living legend Fabien Barel, a maestro amidst the rocks of the Finale Outdoor Region, will be on the hunt too for Canyon CLLCTV and is many people's dark horse to take the win.
Where can I watch it?
You can stay abreast of the full day's racing from the first ever UCI Mountain Bike E-Enduro World Cup right here with all our live timing and race coverage on 03 June. The race day highlights will be available on the UCI Mountain Bike World Series YouTube page on the same evening.