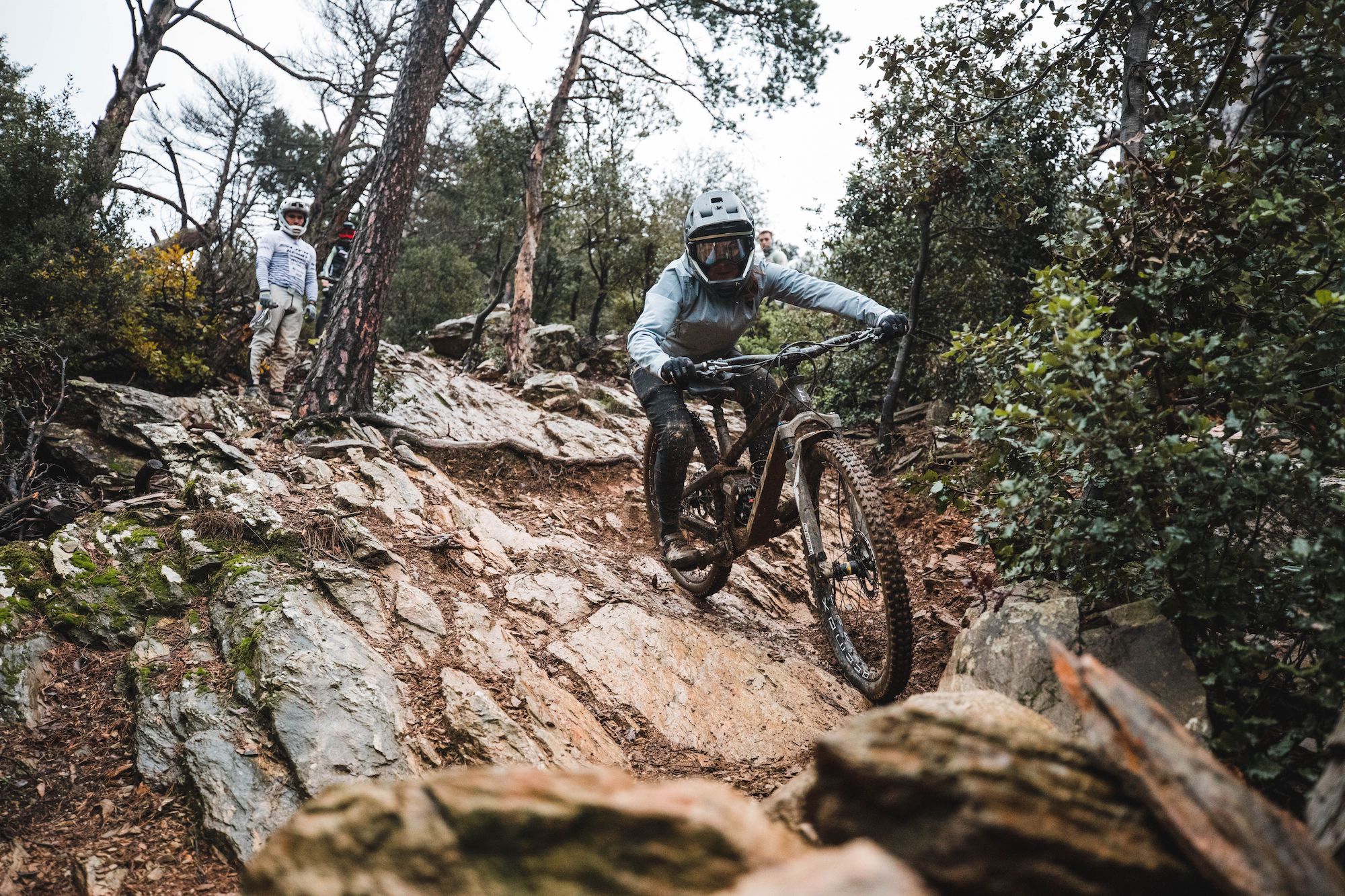 Every two or three seasons the stars align and one or two of the top names of the UCI Mountain Bike Enduro World Cup shift teams and all of a sudden rides become available up and down the pro pits. Ahead of this years racing getting underway in Tasmania at the end of the month we have had a busy off-season of such team changes so, just to make sure that we are all up to speed, here's our essential guide to those big moves:
Jesse Melamed to Canyon CLLCTV
It's a big deal in any sport when the best in the world change jerseys and that's just what happened at the end of January when Canada's Jesse Melamed jumped ship from Rocky Mountain RaceFace to join the Canyon CLLCTV.
It was a big one albeit a big one which was inadvertently leaked by the man himself when he posted his own reflection in a Canyon T-shirt reflected in his coffee machine on Instagram. Melamed is one of the few racers to have competed across the 10 years of the Enduro World Series and has, up until now, done so aboard a Rocky Mountain.
Canyon CLLCTV are one of the most well-respected outfits in the world across all formats of mountain bike racing and to sign up the reigning overall title winner makes a lot of sense and won't have come cheaply. The legend himself Fabien Barel is deeply involved in the squad and will no doubt be looking to craft Melamed into an even more formidable stage-winning campaigner.
Jack Moir to YT MOB
The rumours around this one had started swirling before the final champagne corks had landed amidst the bubbly-soaked revellers at EWS Loudenvielle. Moir, who boasts one of the best podium hit rates in the pro ranks, was the 2021 overall champ. Last season didn't go to plan however having been hampered by an off-season injury and a battle to get on with a new bike.
The tail end of the season went much more according to plan and Jack swept the stages at EWS Crans-Montana. The speed is unquestionably there and if the images coming out of the YT MOB's training camp in Finale Ligure are anything to go by his bonding with his latest German machinery is going according to plan.
This is the YT MOB's first season of stage racing and it will be a learning curve but they have the experience and resources to make it work. In Moir they may well have the ticket to a debut overall title. Christian Textor and Kasper Woolley have also signed up making the squad a genuine threat for the teams title.
Sophie Riva to Sunn French Connexion Racing by Alpe D'Huez
In Sophie Riva, Italy has real hope of finally taking to a UCI Mountain Bike Enduro World Cup top step. The 2021 U21 overall champ has up until now spent her time at that most plucky of taking-on-the-big-dogs outfit Ancillotti Bikes. In her new squad, Riva will have much-needed support and knowledge to draw from courtesy of one of the most professional set-ups in the paddock. Sunn are a byword for 'race winners', brands don't come much more heritage soaked than the French marque. This season could be a big one for both them and Riva.
Slawomir Lukasik to Yeti / Fox Factory Race Team
Like the final rounds of musical chairs amidst a sugar-upped children's party, the race to Slawomir Lukasik's signature at the end of the 2022 season was fevered going on feral. The flying Pole has penned a deal with the team of two-time champ, Richie Rude, where his size and work ethic would seem to make him a logical fit.
His time on Canyon CLLCTV Pirelli was good but his time in turquoise seems to already be on a much more vertical trajectory with some big pre-season results already heading his way. On a team as focused and fixated on detail as Yeti / Fox Factory Race Team Lukasik may just make good on the crushing speed he's always shown.
Melanie Pugin to Weride Fulgur Factory Team
A new team in the UCI Mountain Bike Enduro World Cup pit is Weride Fulgur Factory Team. The name might be new but the pilots are familiar and already successful. Melanie Pugin was virtually unstoppable as she romped her way to the 2021 overall title and Florian Nicolai took Sam Hill to a title decider at EWS Zermatt back in 2019. They are together again having been stablemates on BH Enduro Racing Team and will now front a six-rider line-up.