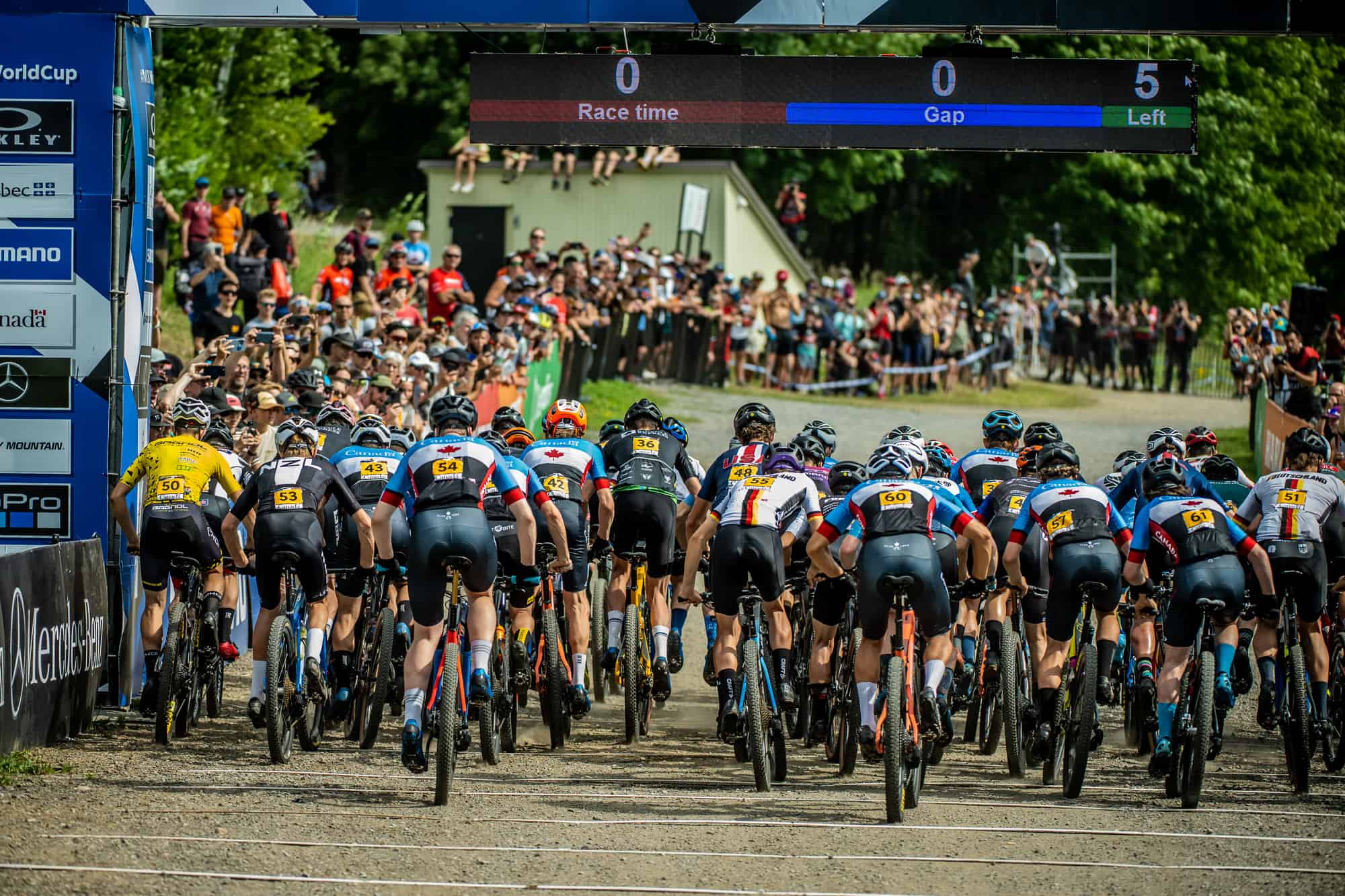 Welcome To Mont-Sainte-Anne
Mont-Sainte-Anne (MSA) is the venue with the longest Mountain Bike World Cup history. Since 1998, the UCI Mountain Bike World Cup has been a must-attend event in Canada, welcoming the cream of the international crop to crown the ultimate Downhill and Cross-country champions in a festive gathering full of action and activity.
In October 2023, Mont-Sainte-Anne will host its 28th UCI Mountain Bike World Cup and celebrate its 31st year of UCI events. Year after year, it is with the same enthusiasm that the organisers, about five hundred volunteers, numerous trusted partners and tens of thousands of visitors warmly welcome the UCI World Cup athletes and their teams.
The Downhill and Cross-country tracks are amongst mountain bike racing's most revered monuments and have played host to some of its biggest moments over the years. As bike technology and rider skill levels continue to progress there remain few tests tougher than found in MSA.
Located 45 minutes from downtown Quebec City and three and a half hours from Montreal, Mont-Sainte-Anne is recognised worldwide as a mountain biking destination, both for its downhill and cross-country infrastructures. With 40km of downhill and free-ride trails and 125 km of forest trails, downhill and cross-country lovers will find Mont-Sainte-Anne to be a challenge!
Overlooking the majestic Saint-Lawrence River, Mont-Sainte-Anne is also a splendid playground for all outdoor sports fans, in both summer and winter.
UCI Cross-country Olympic World Cup

The Cross-country Olympic race at Mont-Sainte-Anne is a gruelling endurance race that demands a combination of strength, power, and technical skill. Competitors race on the iconic Mont-Sainte-Anne track, which features numerous technical climbs and descents on rugged terrain. Unlike individual start downhill events that require the fastest time, XCO events have a mass start and occur on a closed circuit that racers ride multiple times.

UCI Cross-country Short Track World Cup
The Cross-country Short Track event is a fast and dynamic race that lasts around 25 minutes. Both men and women compete on a course that spans approximately 1 to 1.5 kilometres in length, and they must complete several laps of the circuit during the event. The race takes place on a looped course, which allows spectators to be at the heart of all the action and experience the thrill of the event alongside the runners.
UCI Downhill World Cup

The Downhill event is without a doubt the most challenging and spectacular of the Mountain Bike World Cup competitions.
This event is an individual time-trial race in which racers attempt to achieve the fastest time as they tackle the legendary Mont-Sainte-Anne downhill trail. Recognised as one of the most demanding runs on the World Cup circuit, the course features a succession of fast sections and technical passages featuring rock gardens, jumps, roots, bumps and other natural obstacles designed to spice up the ride. With its guaranteed thrills, this is a show you won't want to miss!
Useful Links
June 4, 2023
Local Time Zone: America/New_York
Feels like: 8°C. Broken clouds
3.09 m/s
June 4, 2023
Local Time Zone: America/New_York
Feels like: 46°F. Broken clouds
6.91 mph
Time
Name
Name
03/10/2023
12:00 - 16:00
Track Closed for Inspection
DHI
04/10/2023
08:00 - 08:30
Rider Confirmation - UCI Elite MTB Teams
XCO XCC DHI
08:30 - 09:15
Rider Confirmation - UCI MTB Teams
XCO XCC DHI
09:00 - 10:00
Course Foot Inspection - Elite Teams
DHI
09:15 - 09:30
Rider Confirmation - National Federations
XCO XCC DHI
09:30 - 16:00
Rider Confirmation - All Riders
XCO XCC DHI
10:00 - 16:00
Track Closed for Inspection
XCO
10:00 - 12:00
Course Foot Inspection - All Riders
DHI
13:00 - 14:00
UCI Downhill World Cup - Training - Junior Women
DHI
14:00 - 15:00
UCI Downhill World Cup - Training - All Juniors
DHI
15:00 - 15:00
UCI Downhill World Cup - Training - Junior Men
DHI
05/10/2023
08:00 - 12:00
Rider Confirmation - All Riders
XCO XCC DHI
08:30 - 10:30
UCI Downhill World Cup - Training - Group B
DHI
09:00 - 10:00
Press Conference
XCO XCC DHI
10:00 - 12:00
UCI Cross-country Olympic World Cup - Training - Women
XCO
10:30 - 12:00
UCI Downhill World Cup - Training - Groups A & B
DHI
12:00 - 14:00
UCI Cross-country Olympic World Cup - Training - Men
XCO
12:00 - 13:30
UCI Downhill World Cup - Training - Group A
DHI
13:45 - 14:15
RACE: UCI Downhill World Cup - Qualification - Junior Women
DHI
14:00 - 15:30
UCI Cross-country Olympic World Cup - Training - All Riders
XCO
14:15 - 15:00
RACE: UCI Downhill World Cup - Qualification - Junior Men
DHI
15:15 - 16:45
UCI Downhill World Cup - Timed Training - Elite Riders
DHI
16:15 - 17:15
UCI Cross-country Short Track World Cup - Training - U23
XCC
RACE: UCI Cross-country Short Track World Cup - U23 Women
XCC
RACE: UCI Cross-country Short Track World Cup - U23 Men
XCC
06/10/2023
08:00 - 10:00
Rider Confirmation - All Riders
XCO XCC DHI
09:00 - 11:00
UCI Cross-country Olympic World Cup - Training - Women
XCO
09:00 - 11:00
UCI Downhill World Cup - Training - Group B
DHI
11:00 - 13:00
UCI Downhill World Cup - Training - Group A
DHI
11:00 - 13:00
UCI Cross-country Olympic World Cup - Training - Men
XCO
13:15 - 14:00
RACE: UCI Downhill World Cup - Final - Junior Women
DHI
14:00 - 15:00
RACE: UCI Downhill World Cup - Final - Junior Men
DHI
15:30 - 16:00
RACE: UCI Downhill World Cup - Qualification - Women
DHI
16:00 - 17:00
RACE: UCI Downhill World Cup - Qualification - Men
DHI
16:15 - 17:15
UCI Cross-country Short Track World Cup - Training - Elite Riders
XCC
RACE: UCI Cross-country Short Track World Cup - Women
XCC
RACE: UCI Cross-country Short Track World Cup - Men
XCC
07/10/2023
08:30 - 09:15
UCI Downhill World Cup - Training - Qualified Women
DHI
09:00 - 12:00
UCI Cross-country Olympic World Cup - Training - All Riders
XCO
09:15 - 10:45
UCI Downhill World Cup - Training - Qualified Men
DHI
11:00 - 11:30
RACE: UCI Downhill World Cup - Semi Final - Women
DHI
11:30 - 12:30
RACE: UCI Downhill World Cup - Semi Final - Men
DHI
13:00 - 14:00
RACE: UCI Downhill World Cup - Final - Women
DHI
14:00 - 15:00
RACE: UCI Downhill World Cup - Final - Men
DHI
08/10/2023
08:30 - 10:30
RACE: UCI Cross-country Olympic World Cup - U23 Women
XCO
10:30 - 12:30
RACE: UCI Cross-country Olympic World Cup - U23 Men
XCO
13:00 - 15:00
RACE: UCI Cross-country Olympic World Cup - Women
XCO
15:30 - 17:30
RACE: UCI Cross-country Olympic World Cup - Men
XCO